Introduction
Have you ever thought what Lahore secret attractions are? Lahore city is the well-known for its rich cultural heritage, art, tradition, taste of food and history. Exploring a new city in a single day may be challenging but with the proper planning it can be a wonderful one-day trip. First you need to make a list of must seen attraction and second allocate how much time you will spend at each attraction. If you want to explore more of each attraction, start your trip early in the morning, wear comfortable shoes and keep water bottles in your bag.
Best time to explore the city Lahore
From the month of October to March is the great time to explore the city of Lahore specially historical attraction like Lahore Fort, Shalimar bagh etc. During this time the temperature of Lahore agreeable to explore outdoor attractions. In the spring season specially from February mid to March end, their different cultural shows organized in Lahore which shows the culture of Punjab.
In this article we are going to share with you what are the 4 destination you can visit in one day trip of Lahore city. This article will cover 4 sections that split on one day From 07:00 am to 10:00 Pm
Lahore Fort/Badshahi Masjid/Minarepakistan  (From 09:00 am to 12:00 Pm)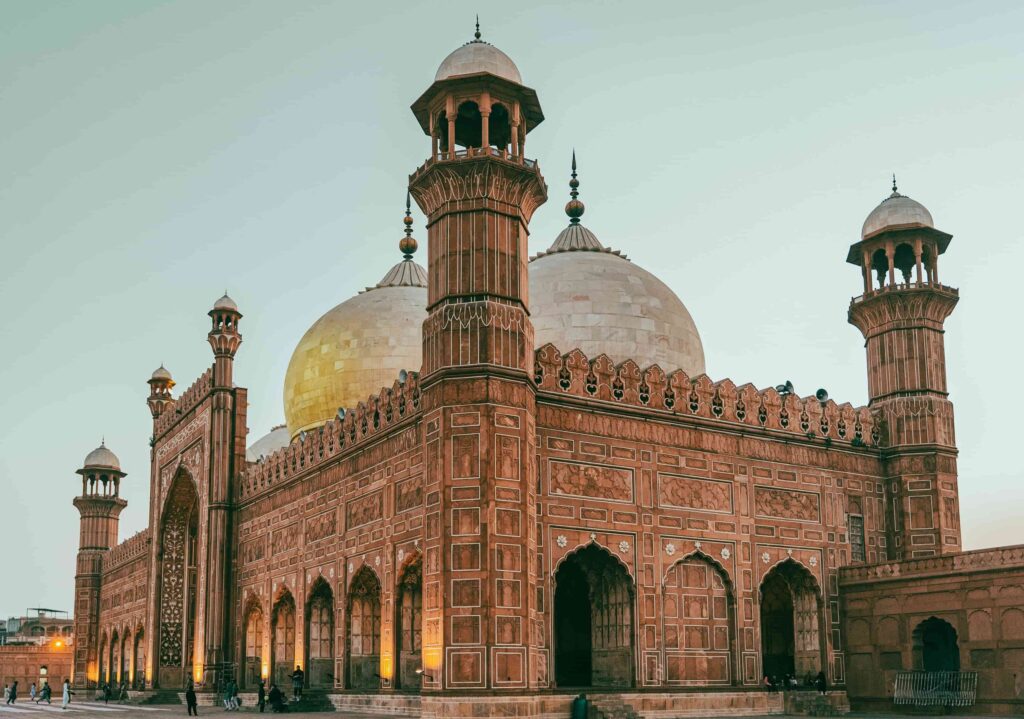 In the morning time, you can visit three iconic landmarks in one go. Reach at the location at 09:00 am and begin your trip with Lahore fort, a magnificent Mughal artwork and a fascinating history. In the Lahore fort you will Moti Masjid, this masjid has a significant historical importance. After Lahore fort visit Minare-Pakistan it is a symbol of Pakistan independence struggle. After visiting Minar-e-Pakistan, proceed to Badshahi masjid that is at the front of Lahore fort. Badshahi masjid is an architectural masterpiece with its massive domes and minarets that gives the spiritual reflections.
Lahore Museum (From 12:00 pm to 02:30 Pm)
In your one day Lahore tour,After seeing the Mughal architect now proceed Lahore Museum, Lahore Museum is located at the center of the city Lahore, this Museum has the amazing collections of historical artefacts of the subcontinent. The entry ticket price for foreigners is Rs 1000 and for Pakistani residents is Rs 50.
Wagha Boarder Lahore (From 03:00 Pm to 06:00 pm)
In you one day Lahore Trip the third attraction is the wagha boarder Lahore, Wagha boarder is the road boarder crossing between and India and Pakistan. Wagha boarder Lahore attracts tourists for its daily Flag ceremony and Parade. Every evening before sunset this flag ceremony organized, before lowering flag the soldiers from Pakistan and India forces perform a parade with high kicks to show their strength.
Food street and Anarkali Bazar (From 06:00 pm to 10:00 pm)
At the end of your Lahore one day trip if you do not taste Lahore food means you did not complete your Lahore one day trip. As the sun sets Lahore food street comes alive with beautiful lights and gives amazing atmosphere, you can taste variety of top quality of food in one place. The famous old and traditional brands of Lahore foods all will be available in Lahore food street. Harisa, Nehari, Lassi, Pae, Tawa Qeema, BBQ any large variety of foods are available here in one place.
Anarkali bazar is one of the old and traditional shopping street in Lahore. The tourist who come to Lahore visit this Anarkali shopping street for shopping.
Transportation for Lahore Tour
Visiting 4 Places in one day is not possible through public transport. For exploring these 4 places in one day you need to have your own transportation or you can hire private car or vehicle. Askari rent a car Lahore provides latest and new model vehicles for Local Lahroe travel.
Conclusion:
If you organize your trip properly you can explore 4 amazing tourist points in one day. In one day you will learn the history of subcontinent, Lahore and can taste the traditional food of Lahore.