Introduction
A day trip to Kalar Kahar Lake, it is a place to see the nature beauty. Kalar kahar lake is located near District Chakwal Punjab. The first reason of its popularity is its simplicity and the second reason is, since the Lahore-Islamabad motorway built it is easily accessible and its popularity Skyrocketed. This beautiful lake attracts sightseers who are looking for relax and near to Nature vacations at some hill station. To attract tourists' local authority built a museum here with the collection of many artefacts. This lake is 10 to 15 feet deep and covers the area of around 09 to 10 km. activity of boating, fishing, pedal boating, motorboating is available for tourists.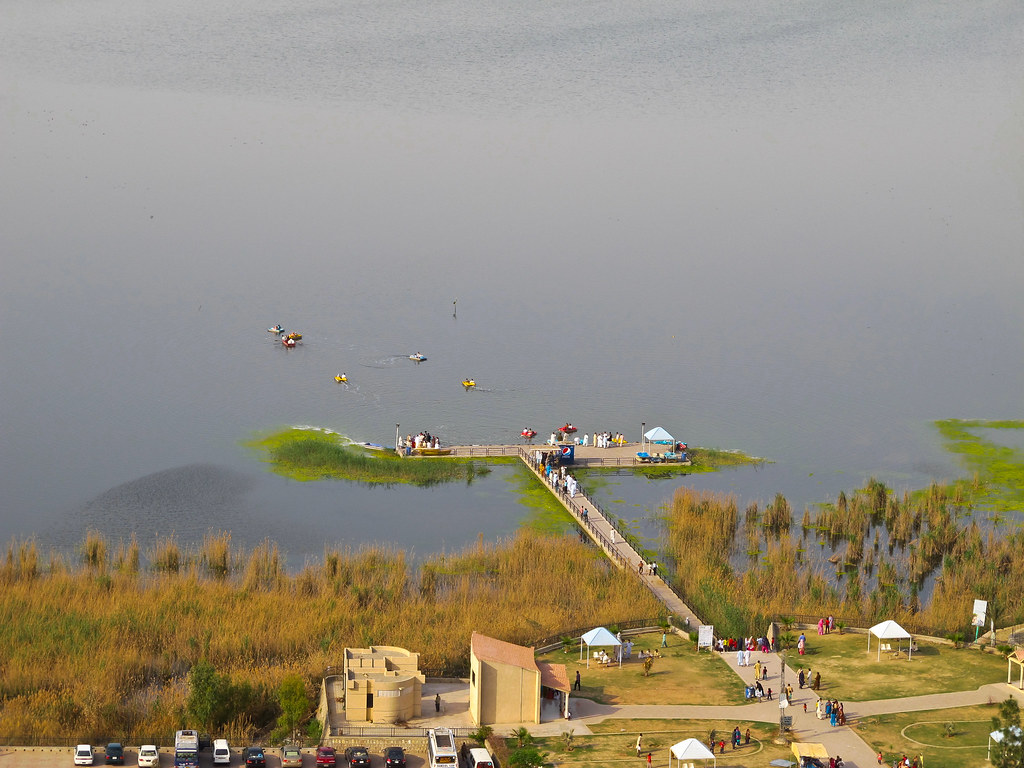 How to access kalar kahar?
Mostly tourist comes from Islamabad, Lahore, chakwal, Faisalabad via Lahore-Islamabad motorway to explore this beautiful lake. in the below table there is distance and time of travel is explained to reach at this natural lake
| | | |
| --- | --- | --- |
| From | Km | Time to reach |
| Chakwal to Kalar kahar | 28 Km | 45 min |
| Islamabad to Kalar kahar | 135 Km | 1 hr and 30 min |
| Lahore to Kalar Kahar | 247 Km | 3 hr and 15 min |
| Multan to Kalar Kahar | 338 Km | 4 hr |
| Faisalabad to Kalar Kahar Lake | 127 Km | 2.5 hr |
when Should visit Kalar kahar Lake?
Two seasons are considered most favorable to visit Kalar Kahar Lake, first is from the month of September to November and the second is from March to May, during these two seasons the weather is generally mild and comfortable. Avoid to visit in summer high heat and monsoon season.
what are the other Spots around Kallar Kahar ?
Tourist who comes to visit beautiful kalar kahar lake gets the opportunity to explore some surrounding spots in one go like
Kalar Kahar Museum: Kalar Kahar museum is known as the fascinating Cultural and historical storehouse. Kalar kahar museum has the collections of Artefacts, paintings, and displays from all across kalar kahar and its environs.
Takht-e-Babri: Mughal King Babar give speeches to his troops from this Takht-e-Babri, Takht-e-babri is a small limestone stage in the Garden which construct by his team of architects when he comes from Kabul.
Peacocks Dance: If you want to see peacocks doing dance then you have to visit shrine of one of the famous sufi "Ahoo Bahoo" also known as (Moron Wali Sarkar) in Kalar kahar. In the morning number of peacocks can be seen in the shrine expressing their thanks and leaving before the tourist start arriving the kalar kahar. Due to the large number of tourists In the day time peacocks rarely make an appearance. Those who want to see this beautiful view they has to reach at shrine early in the morning.
Swaik Lake: Swaik lake is a natural tourist spot for those who are nature lovers and natural peace seeker. It is located in Khandowa village 8 km distanced from kallar kahar interchange. Exploring swaik lake gives you different experience then Kalar kahar lake. In a day trip you can explore both lakes of kallar kahr region.
Is their any hotel and restaurant in kalar kahar for tourist?
To promote the tourism and to facilitate tourist in kalar kahar TDCP (Tourism Development corporation Pakistan) construct TDCP resort in kalar kahar. This resort offers luxurious accommodation with plenty of spaces and modern facilities. Restaurant facility is also available with variety of Chinese and continental food menu.
what transport should use to reach at kalar kahar?
Kallar kahar natural tourist spot can be accessible by all type of transport. There is not any specific type of vehicle required like 4*4 vehicles to reach at this beautiful place. Roads are in good condition all small cars or big vehicles can be easily reach at this location. Many rent a car companies in Lahore and Islamabad offers one day tour package of kallar kahar. Askari rent a car Lahore offers one day tour package from Lahore to explore the beauty of kallar kahar. Many schools, colleges, tour companies organized one day tour of kallar kahar.
Conclusion
Kalar kahar lake is best one day tourist spot. Tourist can explore surrounding areas of kalar kahar lake in one day trip swaik lake, Kalar kahar museum. Tourist can enjoy boating in kalar kahar lake.